SKATE RENTAL- $3
ROLLER BLADE RENTAL- $5
SKATE MATE RENTAL- Free
SOCKS- $3
MINI PUTTING GREEN- $3.50
SKATE SCHEDULE
Check back often as our schedule may change
Monday: 4:00pm-10:00pm (Monday Family deal- $7 per person. Skates included. You don't have to add skates at checkout)
Tuesday: 4:00pm-10:00pm
Wednesday: 4:00pm-10:00pm- Neon/Theme Night
Thursday: 4:00pm-8:00 pm closed at 8:00 pm for private events.
Friday: 1:00pm-11:00pm-
 2nd Friday-Adult Skate / 4th Friday- High School Night! 9:00-11:00 pm
Saturday:1:00pm-11:00pm
1st Saturday College Night- 9:00-11:00 pm
Sunday: Closed
Upcoming Events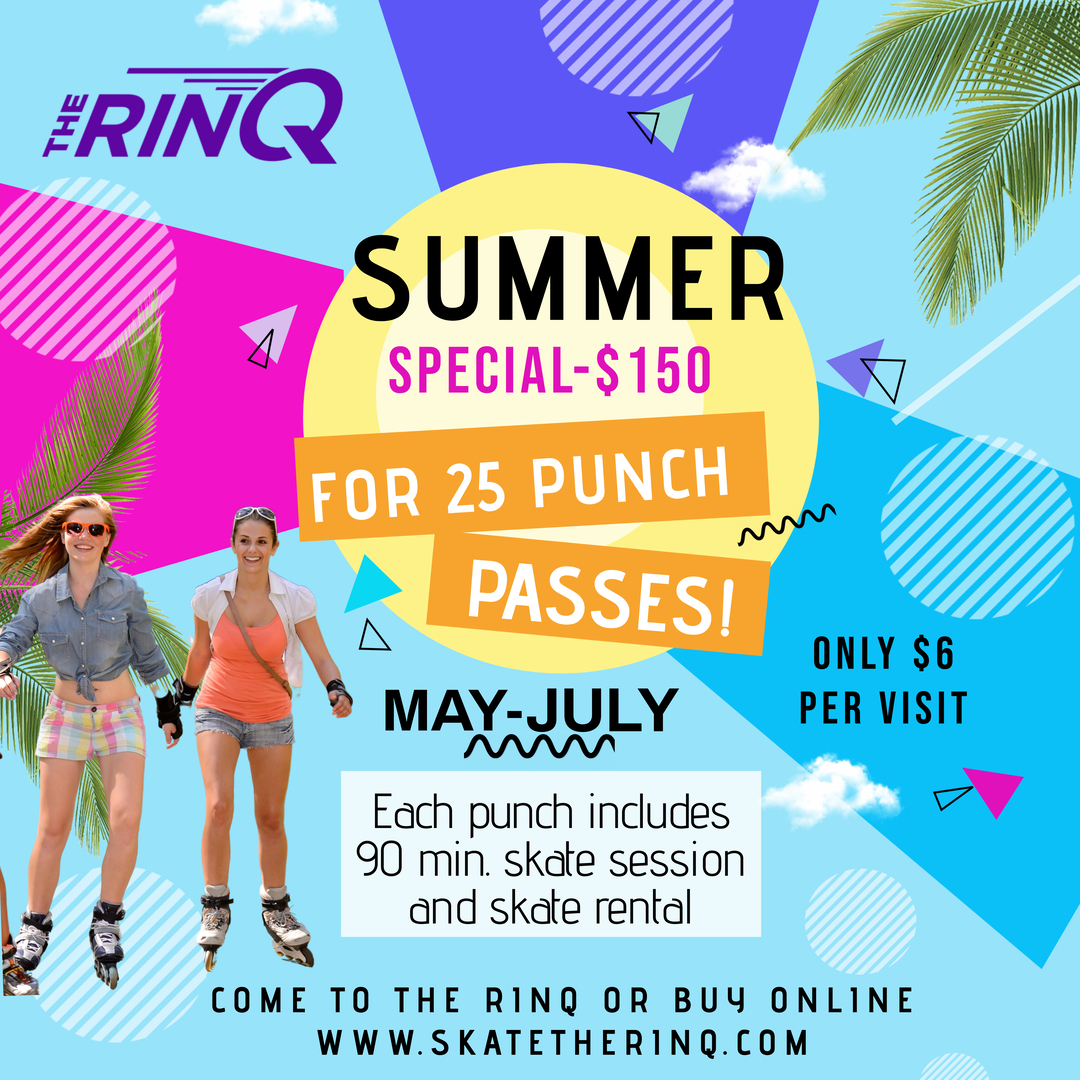 Specials
*Dixie Direct deals can be redeemed in person at The RinQ. You may book online and we will refund you the difference. Card or coupon must be presented. 
MONDAY FAMILY DEAL-$7 PER PERSON. Skates included. You don't need to add skates at checkout.
NEON NIGHT/THEME NIGHTS– Free Skate Rental if you dress to the theme!
ORGANIZED GROUP PRICING- FREE SKATE RENTAL for 15-49 people. AVAILABLE TUES-THURS. ONLY. SELECT THE GROUP RATE OPTION AT CHECKOUT. EXAMPLES OF ORGANIZED GROUPS CHURCH/ WORK/ SCHOOL/ TEAMS. 
10% DISCOUNT for military, first responders, healthcare workers, and senior citizens. Discount can be applied at The RinQ.
GIFT CARDS & PUNCH PASSES AVAILABLE AT THE RINQ!
WEEK DAY PUNCH PASS- $70 for 10 punches
Each punch includes a 90 min. skate session and skate rental. Available for use Monday-Thursday only.
Games & Food:
AIR HOCKEY TABLES, PUTTING GREEN, AND KITCHEN 435 FOOD COURT COMING SOON!